WDEL Blog: Rick Jensen's World Famous Thirsty Thursday Blog



January 10, 2014


Gluten Free Beer and a Pregnant TT Member! What?!

Big news hit the airwaves this week on Thirsty Thursday with the announcement that I, Thirsty Friend Sabrina, am expecting my first child! Good news, and bad, as the drinking of beer and all things alcoholic for that matter, has been suspended for the not near enough future...

---
November 15, 2013


IPA Throwdown Challenge!

There's been talk for at least a year of this challange, but the time has finally come for... THE IPA BLINDFOLDED THROWDOWN CHALLANGE! Beers "On Tap" Southern Tier 2XIPA Victory Hop Devil Dogfish 90 Minute IPA Objective: Identify the most IPAs to win bragging rights for a year...

---
November 8, 2013


Starr Hill Brewery in VA and Old Dominion Black Cherry Soda

Mark Thompson and Brian Shields of Starr Hill stopped by our "Thirsty Studio" this week. Starr Hill Brewery is located in Crozet, Va, 12 miles west of Charlottesville...

---
October 25, 2013


Twin Lakes on Thirsty Thursday!

Sam Hobbs of Twin Lakes Brewing Company in Greenville joined us on the show this week and brought some delicious beverages... all beer, of course.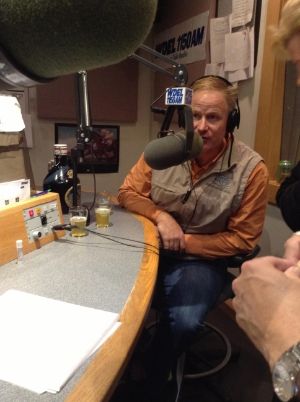 ...

---
October 18, 2013


Three Floyds, Allan Loudell & Milburn Orchards Granny Smith Cider!

Allan Loudell joined us on Thirsty Thursday this week and brought some GREAT beers from Munster, Indiana. Three Floyds is an American microbrewery founded in 1996 producing some pretty amazing and unique brews...

---
October 11, 2013


Victory Brewing Company in the Studio!

What a great guest we had this week on Thirsty Thursday! This week we were joined by Matt Kreuger from Victory Brewing Company who was awesome. He brought character, charisma, Teddy Roosevelt...

---
September 19, 2013


Lancaster Brewing Company Visits Thirsty Thursday!

Mike "Drinkwell" of Premiere Wine & Spirits Limestone Road location joined us on the show today, and brought in Brewmaster from Lancaster Brewing Company Bill Moore...

---
September 12, 2013


The Cast of Avenue Q Feature Beers for Their Many Personalities

It's no secret that Gina is a drama nerd. She loves it. We love her. So, today she brought in some of her cast members from the upcoming play she is in with the Wilmington Drama League...

---
August 23, 2013


Rick Jensen's World Famous 'Thirsty Thursday' Show August 22, 2013

The Thirsty Thursday Review, by Sabrina Aug 22, 2013 The past few weeks have featured a new voice on the show, a thirsty voice. A voice that heard from her cubicle Rick, Gene, Gina and Laurie were drinking beer on WDEL...

---
June 16, 2010


Social Media for Fun and Profit

Communication. If you're interested in the exchange of ideas, you should be involved with Delaware's Social Media groups. Instead of describing this to you, visit the site below and read, watch some videos and get a feel for what this is all about: http://delsocial...

---
June 7, 2010


Delaware's Brilliant Idea: When kids skip school, kick them out of the school. Yeah, that'll show 'em!

Thousands of Delaware students are suspended for minor infractions each year, some for skipping school. Schools tell kids "If you don't want to come to school, just don't attend and we'll make it official...

---
May 25, 2010


Governor Markell & Rep. Schwartzkopf: Execute the Presumed Suspect and Investigate Later!

Governor Markell and House Majority Leader Pete Schwartzkopf are pushing to cancel Governor Minner's controversial contract between NKS Distributors and the State of Delaware without jurisprudence; without first investigating whether NKS negotiated in good faith...

---
May 11, 2010


Why Republicans SHOULD vote to confirm Elena Kagan... Fast!

Republicans need to vote to confirm Kagan quickly, before the Far Left picks someone much more effective at pushing Leftist policies! 1: She has articulated some core conservative principles and when she argues liberal policy, she loses...

---
May 10, 2010


What's so Wrong about Elena Kagan?

She's a smart, politically savvy, well-connected lawyer with no experience on the bench, losing major liberal cases in front of the supreme court, raising over 400 million for Harvard by recruiting conservative students to the school AND she's a Goldman Sachs crony...

---
April 30, 2010


Hey! Delaware has a Political Cartoonist!

Newspapers are shrinking and along with the news covergage, the cartoons are shrinking. The Sunday Funnies have been sliced at least 30% and the weekday strips are shrunk...

---
April 28, 2010


Clinton's Niece on Food Stamps... Liberal Compassion

This is how liberals do it: pay the government to help relatives while you rake in millions on book deals. Macy Clinton, 18, the daughter of Bill Clinton's brother Roger, tells "Inside Edition" she needs government assistance to eat...

---
April 27, 2010


Obama's GM CEO: Liar or Not?

If Obama's GM CEO says "We paid back the load in full with interest" and he had to take out ANOTHER government loan to do it, did he lie? You decide. Sean McAlinden, chief economist at the Ann Arbor-based Center for Automotive Research, points out that the company has applied to the Department of Energy for $10 billion in low (5%) interest loan [sic] to retool its plants to meet the government's tougher new CAFÉ (Corporate Average Fuel Economy) standards...

---
April 21, 2010


Russians Refuse Obama's Handshake... Was this on the News?

Wow! 3 Russian delegates shake the ambassador's hand and ignore Obama's outstretched hand! For you partisans who might want to pretend Obama is respected by Russians due to his cool oratory, watch the President's expression of frustration and annoyance...

---
April 16, 2010


A little diversion....

...

---
April 5, 2010


How Liberal is Obama?

Obama's opening day pitch, Phils v Nationals: The Lefty Pitcher threw it High and Outside on the Left! High. Outside. Left. Yup. ...

---
View all WDEL Blogs